How to buy a carpet in India.
CARPET GUIDE:- The world of Carpet weaving has a unique language of it's own, which for a first-time buyer can be confusing. There are terms like "Persian", "Tribal", "Silks" to be reckoned with, questions of fiber, regions, knot count- information to be navigated and understood; an entire vocabulary that allures yet mystifies.
The reality is that Buying a carpet is surprisingly simple.
As long as you have your basics right vis-a-vis accurate measurements, color and have addressed questions on durability and traffic -then choosing the best carpet for you is going to be relatively easy and your Carpet buying experience infinitely enjoyable. Do remember one doesn't need to be the expert to buy the best rug; it is about finding the carpet that speaks to you and that you truly love.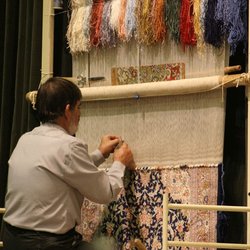 Our collection comprises of classical Oriental rugs i.e. rugs from the traditional rug-weaving areas of the world: – Persia (Iran), Pakistan, Afghanistan, Turkey, the Caucasus, Central Asia, Western China and India. This includes-:
Antique Carpets & Rugs – Original pieces from the 19th and 20th century, the majority of which are collectors' items
Kilims & Durries – Flat woven textiles woven by nomadic tribes with primarily geometric patterns
Antique Recreations – reproductions of antique carpets made with high quality wool and traditional weaving skills. These also include new Indian Silk carpets.
Modern Carpets – The modern range has designs that are straight-line and contemporary. The collection is in wool and a combination of wool and silk.
Our entire collection is made by hand
Be it modern rugs or antique pieces –each one is individually handmade. This not only accounts for the high-value of the rugs but also explains their longevity.
Following is our to-do list and things to consider before buying a rug-:
Carpets are made in different sizes and in different shapes. Most carpets are rectangular and have standard sizes. Common sizes (in feet) are 2'x3', 3 x5, 4'x6', 5'x7/8', 6'x9', 8'x10' and up. Shapes are usually rectangular but they can also be round, square, oval, octagon or runners.
If you're looking for an uncommon size consider looking at our range of Kilims that feature uncommon Gebbeh sizes or request for a custom design rug.
Questions to consider are:
"Is the carpet going to cover the entire floor or would you like to use it as an area rug? "
"Is the furniture going to be on the carpet or off? "
A good tip is to not be too rigid about the size you require. If you can, come up with a range of sizes that are possible, which will improve the chances of finding a rug you love.
Measure the size of your room and measure the space you want covered Place pieces of paper where each of the corners will fall Adjust the "corners" as needed to make the space larger or smaller Re-measure the area. To cover the majority of the room, leave a 12"-15" inch border. If possible make a diagram of the floor plan, with the furniture, to keep for your reference.
Our rugs use natural fibers, either wool, silk or cotton. This is because naturalfibers havea durability, luster and beauty that synthetic materials don't. The area in which the carpet or rug is placed will determine how durable the fiber should be.
A high traffic area needs a long wearing, stain resistant fiber, while a bedroom may require only something that is soft to the touch and pleasing to the eye. For this reason people commonly prefer the luxury of Silk carpets in the bedroom to the utility of woolen ones for high-traffic areas such as hallways and dining areas. If you are considering a rug for a high traffic area do peruse our selection of Antique Reproductions. This line combines both elegance and utility.
This is of course a guideline as placement of carpets ultimately depends on one's personal taste and preference.
Perhaps the most important feature of a carpet is its design. More intricate designs involve greater workmanship both on the part of the artist and the weaver and have a direct impact on the value of the piece. Patterns can fall into two different categories: curvilinear and rectilinear or floral and geometric.
Geometric designs are made up of repeated vertical, horizontal and diagonal lines. If you're looking at geometric patterns you might want to consider our selection of tribal rugs. Nomadic tribes using certain traditional and cultural symbols as motifs usually weave these rugs.
Curvilinear and floral patterns usually reflect an idea of affinity with nature; and that is why plants, flowers or delicate animals, can be seen in almost all such carpets. If you're veering towards Curvilinear and Floral Designs do look at our collection of Antique Reproductions or our collection of Silk Carpets.
Another rare pattern is the pictorial design. This type of pattern doesn't follow a standard outline and each rug is unique in its details. The weaving of a pictorial rug demands much more skill from the weaver because unlike curves, circles, or repetitive floral elements, it is more difficult to weave details and smaller elements that require great accuracy. For pictorial design you could consider our collection of Antique Persian carpets or the Modern Indian Silk Carpets.
Having the right colors in a room is absolutely key and most people do select carpets on the basis of color. Light colored rugs will make a room look more spacious whereas the deeper darker colors lend coziness to a room.
Whatever your color-scheme, do remember that they don't have to exactly match. Choosing colors that contrast or complement will visually enhance your existing décor.
You can also use carpet to define different zones of a room. For example in a large open-plan living space, you could use a rug to differentiate the living from Dining areas. The furniture in each space could be placed on its own large rug. (If you're not sure, use newspaper or masking tape to map out the size of the Rug you're considering.)
A carpet can also add another layer of texture to a space where existing furniture may be a little lacking in strength. Placing an interesting carpet/rug within a furniture setting has an instant impact and refreshes a space immediately.
Feel free to Contact us:-
Miras Carpet Industries
#7, Suryodai Complex Kodihalli
Old Airport Road Opp. Hotel Leela Palace
Bangalore, 560008
INDIA


+91 (80)-4157-1894


 +91(80)-2521-0786
For a more exhaustive list of carpet categories, carpet grades, fiber comparisons, budget suggestions and a glossary of key carpet terms; please do refer to our FAQ's section where we've complied responses to often asked client queries https://mirascrafts.com/miras-faq/