Carpets are a must-have requirement to complete our homes or offices . Carpets  not only beautify your homes, but these also provide a cushioning comfort and warmth to the home. Carpets are admired by the family members as well as the guests. 
The best part is that carpets in Bangalore come in a wide range of designs and styles. So, one can purchase them to give a unique look to the various rooms and areas in one's home.

Living room:
 One requires measuring the areas of the living room and other places where the carpets have to be placed. In case you are looking forward to a wall to wall carpet, you can opt for sisal carpets. These can be maintained very easily and would help in absorbing of the dirt. 
On the other hand, if you want to purchase a carpet for the sofa area, you should opt for the shag carpet, Kashmiri Kaleen or the silk rug. The carpet with persian or abstract  designs and bright colours are the perfect fit for a contemporary setup.

Dining room:
In the dining area, one should choose and place rich carpets for lending a unique beauty and charm. High and low pile carpet in nude and pastel colours would make the area appear elegant and bigger.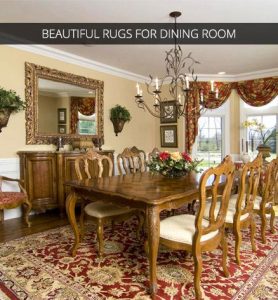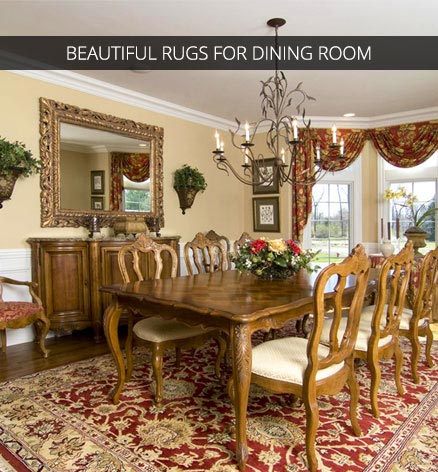 Bedroom: 
 
The bedroom area is all about repose and relaxation. Here one can opt for a low pile wool carpet. Both these style renders a cosy ambience to the area. Moreover, these are also easy to maintain. 
While purchasing carpets in Bangalore for your bedroom area, Choose carpets with lighter colours. If there is a small seating area in your bedroom, you can place your carpet over there. Otherwise, the carpet can be placed right in front of a bed.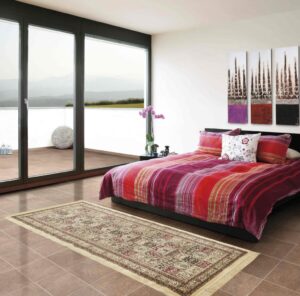 Study room:
A study is one's personal space where we prefer to relax with our favourite books in our own style. A carpet can be used to give a vintage look to a study. One can opt between a Kashmiri Kaleen and a silk carpet. The bright colours like maroon, brown and golden can be used to create a brighter reading experience.
General tips for choosing a carpet.
Choose a carpet design that is balanced with the overall decor of the house.
You should take a foot feel of the carpet.
While placing carpet in your living room, you should ensure that your front legs of all the furniture items fall on the carpet.
The carpets are cleaned at regular intervals.
Based on traffic in a room, one should choose between light and bright colours. A bright carpet is better placed in an area having more footfalls. The light ones are in areas with a lesser amount of footfall.
Carpet cleaning tips
It is imperative to keep the carpet clean through regular vacuuming. It should preferably be done every day. If it is not possible to do everyday cleaning, you must vacuum the carpet at least once in 10 days.However, in case you have pets that shed hair from fur, you should vacuum more often. One must be extra cautious about carpet cleaning if there is a baby in the home. 
You can find exclusive designs and beautiful patterns to buy carpets in Bangalore on online shopping websites too.
At Miras Carpet Industries, carpets are designed by the best carpet Weaver's around the world and are delivered straight to your door with a single click on the site or by Visiting to Store. Therefore, do not wait, click on your computer to order the most amazing carpets for you.