Today I will explain you the major differences between Handmade Rug VS Hand Tufted Rugs. Both Hand-knotted and Hand tufted rugs looks same if we see them from front side, I mean the pattern and the texture of the rugs looks exquisite in both rugs. But we can make out the real difference once we check the back of the both the rugs.
  Hand- Tufted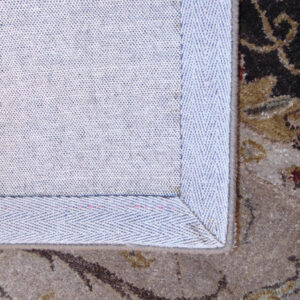 Hand-Knotted
Even though both hand-knotted and hand-tufted rugs are made by hand, that is where the similarity ends. The process of creating both types of rugs is different not just in complexity, but also the time it takes to create one, and the skill level required in manufacturing it.
As a result of an entirely different process, the products end up having a different look and feel. For these reasons, these different types of rugs can also differ in longevity and cost. Before making a purchase, learn the key differences between the rugs.
What Is a Hand-Knotted Rug?
Hand-knotting is an ancient art used to make rugs that are masterpieces of intricate designs. A hand-knotted rug is a one-of-a-kind rug that is woven completely by hand on a special loom. Popular types of hand-knotted rugs include Oriental and Persian rugs. These rugs are made from natural materials, such as wool, silk, and cotton. They have a flatter pile with less texture.
Weaving a hand-knotted rug requires a great deal of skill and often a lot of time to produce. The quality and very often the cost of a hand-knotted rug is determined by the number of knots per square inch. Knot density is a traditional measure for quality of handmade or knotted pile carpets. It refers to the number of knots, or knot count, per unit of surface area – typically either per square inch (kpsi) or per square centimeter (kpsc), but also per decimeter or meter (kpsd or kpsm).  In this case, a higher density  means better quality.
A complex pattern can require very dense knotting, and thus it can take a long time to produce. It can often take months to complete a hand-knotted rug. An average weaver can tie about 7,000 – 9,000 knots per day. So you can imagine how long it can take to complete one handmade rug, especially if it happens to be a large one. The time involved in making it also accounts for hand-knotted rugs costing more on average than hand-tufted rugs.
One of the easiest ways to spot a hand-knotted rug is to flip it over. A hand-knotted rug will not have a backing on it. The design is the same on both sides. It will look like you could turn it over and use it on either side thanks to the exquisite amount of detail from the knotting. A hand-knotted rug will likely have fringe because there is no binding on the ends of the carpet. Check the example in below image of high knotted silk rug.
What Is a Hand-Tufted Rug? 
A hand-tufted rug is made partially by hand and partially by a mechanized tool. This type of rug is made of wool. The process for creating a hand-tufted rug differs greatly from a hand-knotted rug. A hand-tufted rug is made by punching strands of wool into a canvas that is stretched on a frame with the help of a hand-operated tool. This process is not very time-intensive and does not require the same level of skill that hand-knotting does.
After piling with wool, the rug is removed from the frame. A hand-tufted rug will have some sort of a backing to hold the tufts in place. Often a scrim fabric is glued to the back. To complete the rug, a fringe is added by either sewing or gluing it on.
you can see the best example in below image
                                  How Hand-Tufted Rugs are made


When to Choose a Hand-Knotted Rug over a Hand-Tufted Rug ?
Hand-knotted rugs have superior value because they are original, not mass-produced. The high quality of the knots makes a hand-knotted rug outlast a hand-tufted one. The tufts of a hand-tufted rug tend to loosen up and come out over time. A hand-knotted rug can become a family heirloom and last for generations if it is used with care. A hand-tufted rug will not last as long in the same level of condition.
If you want to buy a rug that has value beyond its use in your home decor today, look to well-made rug hand-knotted by expert artisans. A good-quality hand-knotted rug can become a collector's item, but this doesn't hold true for just any hand-knotted rug. There is a whole range of hand-knotted ones, from poorly made examples to exquisite ones. For example, some countries use poor-quality or highly processed wool for hand-knotted rugs. Other hand-knotted rugs may be handmade using a Jufti knot, also known as a false knot. This false knot is a way to cut corners and time from making the rug and it also lowers the quality of the carpet. It pays to learn about Persian and Turkish knots that are used to make the highest quality hand-knotted rugs.
There are different methods by which knots are created. The two predominant types of knots are asymmetrical and symmetrical. There are other kinds of knots as well such as jufti and Tibetan. However, they are not as frequently used.
Asymmetrical (Persian or Senneh) Knot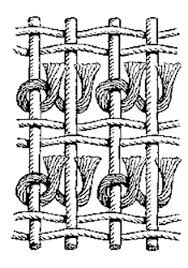 The asymmetrical knot is used in Iran, India, Turkey, Egypt and China. To form this knot, yarn is wrapped around one warp strand and then passed under the neighboring warp strand and brought back to the surface. With this type of knot a finer weave can be created.
Symmetrical (Turkish or Ghiorde) Knot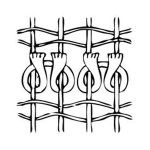 The symmetrical knot is used in Turkey, the Caucasus and Iran by Turkish and Kurdish tribes. It is also used in some European rugs. To form this knot, yarn is passed over two neighboring warp strands. Each end of the yarn is then wrapped behind one warp and brought back to the surface in the middle of the two warps.
Jufti Knot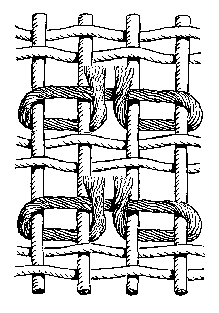 The jufti knot can be seen in rugs of Khorasan, Iran. This knot can be either symmetrical or asymmetrical. The knot is usually tied over four warps making the weaving process faster.
Tibetan Knot
In Tibet, a distinctive rug-weaving technique is used. A temporary rod which establishes the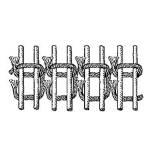 length of pile is put in front of the warp . A continuous yarn is looped around two warps and then once around the rod. When a row of  loops is finished, then the loops are cut to construct the knots.
Tufted rugs are fantastic if you are on a budget and unable to invest in a hand knotted rug, or if you want to buy multiple rugs to keep up with trends or enjoy changing around your decor.
However, if you prefer to spend less, opt for a hand-tufted rug. A hand-tufted rug costs less than a hand-knotted rug because it usually takes less time and skill to make and is thus less costly to produce. This lets the manufacturer pass those savings on to you.
But once we talk about the washing and cleaning of these hand tufted rugs, it becomes a big head ache for most of the clients. You cannot wet wash them or do a deep cleaning as you do with hand knotted rug. Because hand- tufted rugs the most obvious would have to be the back of the rug. A hand-tufted rug will have a canvas backing glued to the back of the rug. It can be only be shampoo washed only from the front side not wet.
Whilst the back of hand knotted rugs will be a translation of the front side of the rug in tapestry style stitches. You can see each individual knot on hand knotted rugs on the reverse side and be able to count the knots per square inch.
The cost of a knotted rug isn't the only deciding factor for the value. There are a wide range of hand knotted rugs- the higher the knot count the better the quality. Knot counts can be as low as 40 knots and as high as 200 knots (which is a tapestry like quality). The higher the knot count the longer t takes to make the rug and the more costly it is to weave it.
Which rug is right for me?
Whether you choose a hand-tufted or hand-knotted rug is a matter of personal taste when it is to be used in a domestic environment. There are differences which should help determine which type is more suitable for you. Price wise, hand tufted is often more affordable and are available largely carpets online from big India brands  on very low cost. We recommend weighing up what is important to you about buying a contemporary rug. The design, thickness, production time, cost or durability. All of our designs are hand-knotted as standard, as we found that our clients often preferred this production method. However all of our designs can also be hand- tufted which is the perfect choice for some of our clients who want a thicker rug, or a rug for a low footfall location or a rug to keep the rug in their commercial Places but not for generations!