Repairs and Restoration Washing And Care Of Carpets/Rugs
Carpet Fringe and Edge Repair For Handmade and Oriental Rugs
Carpet Washing & Cleaning Services in Bangalore India.
We take Carpet Cleaning, washing and repair services of all types carpets and rugs. Contrary
to popular belief, the tussles (fringes) and edges of a handmade rug are not for decorative purposes.
They are the extensions of the weft (horizontal lines) and warp (vertical lines) that form the rug's foundation.
The weft and warp are made from cotton, wool, silk or even jute, and if pulled, torn or damaged, will unravel the
woven pile (knots) of the rug.
Top Four Reasons For Carpet Fringe Repair
Improper vacuuming
Pets pulling the fringes
General foot traffic
Improper cleaning or lack of cleaning
Unfortunately, tussles (fringes) are often the first part of the rug to get torn and damaged. Routine maintenance, as well as being diligent about handling minor repairs, will not only protect the rug or carpet, but also prevent further unraveling and more costly repairs. The extent of a rug's damage, the type of rug or carpet  it is, and the carpet foundation fiber will determine how much repair work is required for the rug's or carpet tussle (fringe). Securing the tussles with proper overcast stitches, implanting new tussles, re-weaving rows of damaged piles (missing nap), and making new fringes are all various options that can bring your Carpet or rug back to its original condition. ( shown in the image)
Below are the stages of a rug's fringe implant process. Keeping the border design intact, fringes were implanted, and secured.
The fringe repair below shows implants added at the knots of the tassels, while secured properly to prevent the original fringes from unraveling.
Below: An unraveled edge is repaired after both the appropriate wool and color match are chosen.
Rug or Carpet  repair is a Craft and learned skill. It also requires rug knowledge and integrity. Yes, integrity.
"Miras Carpet Industries " Carpet Store in bangalore . Most people may not know if the foundation of their carpet
or rug is cotton, silk or wool. They rely on their rug cleaner to tell them.
Although a majority of handmade rugs have cotton foundations, a small percentage of
rugs are wool on wool but mostly Afghani Carpets and Kilim rugs are always wool on wool.
Then, there are expensive, natural 100% silk rugs with silk
foundations. We have also seen some art-silk rugs with cotton foundations
(made mostly in India and China.) If you have an expensive natural silk rug, you do not
want to see the fringes repaired with art-silk. Do you want to deal with someone who will
charge you for real silk, and then give you faux silk?
You must be careful to whom you give your business.
Fringe repair cannot be just cosmetic, or a facade hiding the unraveling foundation of a rug.
Improper repairs will lead to further issues down the road. We always recommend a handmade
rug be repaired to its original condition. However, fringes can be cumbersome to manage, and
costly to implant at times. Remember though, the value of your rug for resale, or insurance


purposes may be somewhat compromised by the choices you make.

.
Is your carpet/ rug tussles (fringe) is giving you a headache ?
Do not worry, there are other alternatives:
– Remove the fringes, secure the ends, and hand weave the edge.
– Tuck/fold the fringes, then cover them with a machine made fringe.
– Secure and shorten the fringes for ease of maintenance.
Ready to Repair Your Carpet Fringe?
If you own an antique carpet or rug, a 100% silk rug or a family heirloom, We suggest investing the time and money to restore your carpet or rug's original fringes.
Call us at +91 80 4157 1894 MIRAS CARPET or fill out our contact form here to properly wash clean and repair the fringes of your handmade carpet /rugs.
Carpet Washing, Deep Cleaning and Restoration Services in bengaluru
Carpets Cleaning Repairing and Restorations service in Bangalore
We undertake Carpet Cleaning and washing of all types of Carpets and Rugs, whatever makeup, size, origin or condition.
Kashmiri, Persian, Afghani, Turkish, Pakistani etc. Our team is skilled in cleaning Wool, Silk, Wool and
Silk blends, Cotton, Silk On Silk and Synthetic Carpets and Rugs etc.
We only use top quality detergent based or organic products for washing and deep cleaning services. We guarantee the removal
of extensive, stubborn build-up of dirt and soil in your carpets and rugs. Eco-friendly and organic products are
getting used in our cleaning methods.
You can trust Miras Carpet Industries for all your Carpet and Rug Wet Washing and deep cleaning requirements as we have
over 35 years of experience, and offer the most comprehensive Oriental Carpet cleaning and Restoration service in Bangalore India.
Miras Carpets is specialized in the cleaning and wet washing of Carpets and Rugs from India, Persia (Iran), Turkey,
Pakistan or from any other Tribal region in the world. And these could be new, antique or semi-antique ,
no matter what kind, we will do the job.
Usually we clean carpets and rugs in 7 to 10 days time depending on the quantity, sizes, condition and weather.
Moreover we do all this at most reasonable and realistic prices.
We are experienced at dealing with the many kinds of problems your carpets may have encountered.
To achieve perfect and safe cleaning results, your carpets will be tested for color fastness before washing them.
If your carpet fails the test, and the colors are likely to bleed, then we will use special methods like dry cleaning.
Before we start the process we will check to see if there are areas on the carpet that is more soiled, or if there are
any stains on the carpet. If so, we pre-treat these areas and inform you about the process.
We are experts at removing stains, using many different special products, but please understand that not all stains
can be removed only once, as they may have permanently changed the colors of the fabric, particularly in Wool Carpets and Rugs.
These type of carpets requires one more cleaning after 2 or 3 months later to get 100% results.
In general most carpets and rugs go through the following cleaning process
First, as much dust as possible is removed from the carpets, by putting them through a special carpet duster. Then the carpet is getting washed by hand, and depending on the type, completely submersed and soaked in water. Depending on material and condition, all carpets are cleaned using different products. The carpet are then rinsed carefully front and back. After this thorough cleaning, the carpets are put through a special roller wringer, which gives them a final rinse and removes as much water as possible, in order to facilitate the drying process. The carpets are then hung to dry in a warehouse drying room.
All the products are work of art and are entirely hand-made handcrafted product of Kashmir, India that has been painstakingly created using the finest handpicked natural fibers and dyes. As you are already aware that this is indeed a lifetime purchase, nonetheless it is in your hands to ensure that it is certainly so and can thus become a treasured and precious part of your family heirloom that can be cherished for years to come.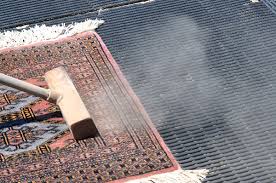 Step 1. Carpet / Rug Dusting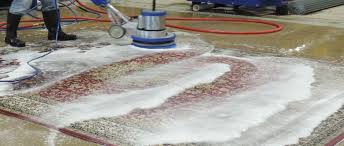 Step 2. Carpet/Rug Washing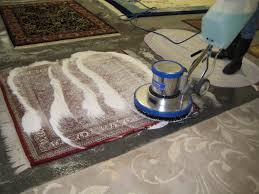 Step 3. Carpet Washing Cleaners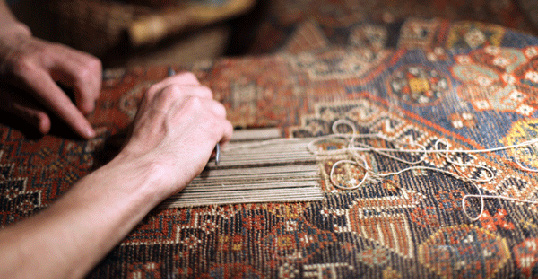 Step 4. Carpet/Rug Repairs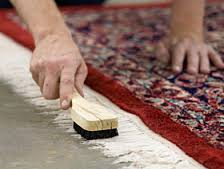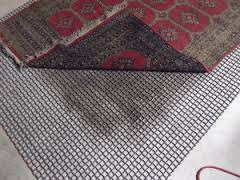 Step 6. Drying Carpet/ Rug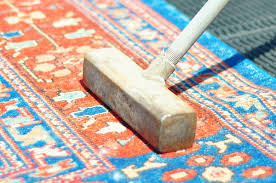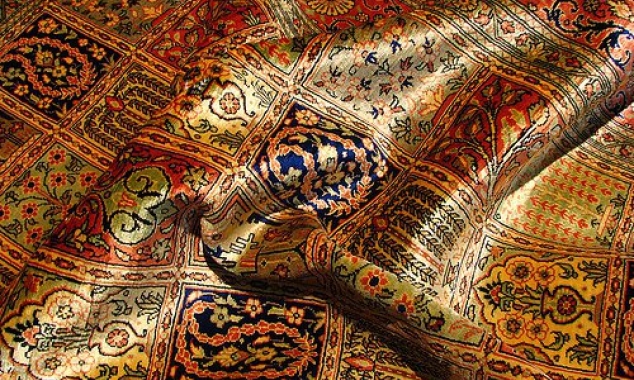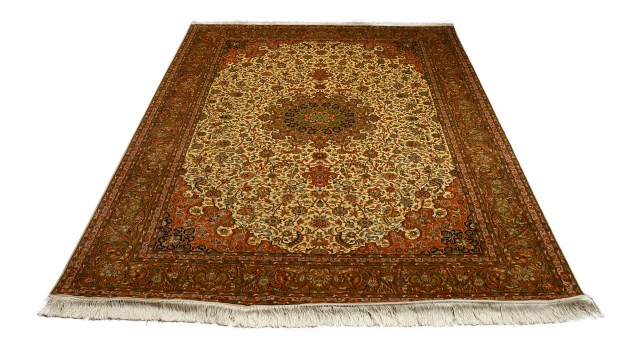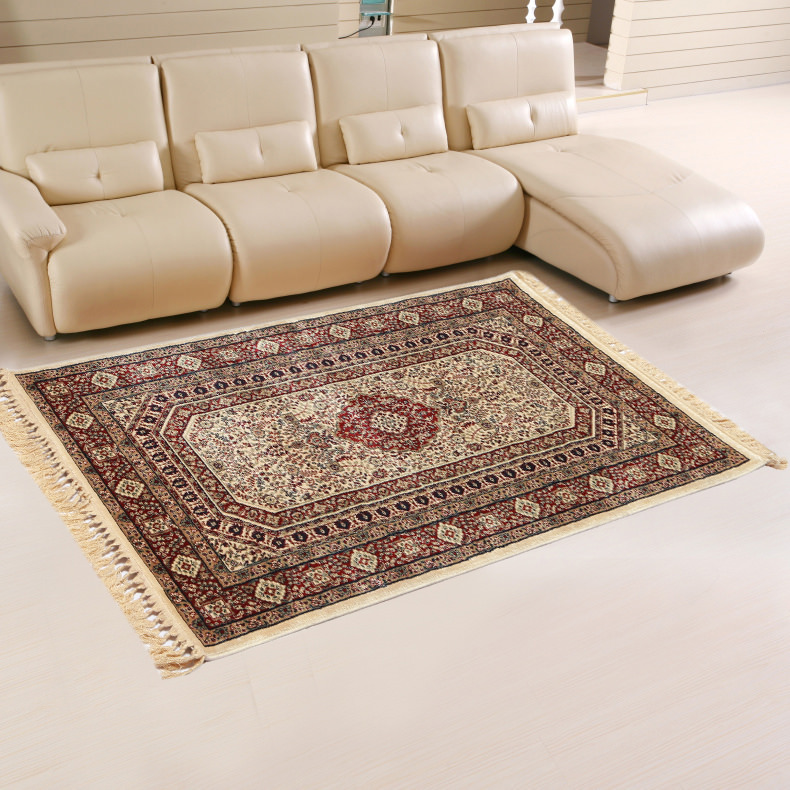 How to clean carpet yourself.
Washing of Carpet / rug

If your Carpet or rug is small and the label says "machine washable," shake the rug outside first and then put it in the washing machine at the recommended temperature. Use warm water (90 to 105 degrees) and a mild detergent. Tumble your rug dry on the lowest heat setting.

To be dry-cleaned or steam cleaned or hand washed only.
Use only cold or lukewarm water and carpet shampoo for scrubbing with the help of a cotton swab or a sponge.
Avoid use of strong detergents or solutions with concentrated alkaline contents etc.
Do not drenching the entire carpet, dry the back of the carpet first if and when soaked.
Direct sunlight on the carpet should be avoided.
Vacuum or Hoover the carpet along with the pile of the carpet and never against the pile (i.e. only in one direction).
Carpets are Moth proof hence do not use any naphthalene balls (mothball odor) or anything similar for storage purposes.
Walk on Your Rug Barefoot
The best way to keep a rug clean and long lasting is to keep it from getting dirty. Removing your outdoor shoes when you enter the house is an easy way to add years to the life of your rug, and to decrease the expense of professional cleanings. Bare foot, clean slipper or sock footed traffic is much kinder to your rug than hard soled or high-heeled shoes. Leaving your outdoor shoes at the entrance to you home tracks in much less dirt.
Having several pairs of clean cotton slippers in different sizes for your guests will encourage visitors to relax and feel at home while protecting your carpets.
Finally do not forget
Vacuum regularly
Remove spills immediately
Professionally clean (for residential use: once every year or two)
Please check our Rate list 2020 for our carpet and rug services Click here.
Dear Customer Please note we do not provide any Pick or drop facility as of Now for servicing of
Carpets and rugs. But we are  soon launching pickup and drop facility in future and we are working on it.
The Carpets should reach to our Carpet  Store in Bangalore for the Physical inspection and to give you exact price on spot.
And once Carpet or rug is ready, you will be intimated via message or email or a phone call from our Service team, it should
get  picked up as earliset possible by you only. otherwise we will Not hold any responsibility for missed items etc.